The Weeknd

Born:

Abel Makkonen Tesfaye
February 16, 1990 (29 years old)
Toronto, Ontario, Canada

Occupation:

Singer-songwriter & record producer

Years active:

2010-present

Parents:

Samra Tesfaye
Makkonen Tesfaye

Ex-Girlfriends:

Bella Hadid (2015-2016; 2018-2019)

Selena Gomez

(Janaury 2017 - October 2017)

Nickname:

The Weeknd
The Weeknd (born: Abel Makkonen Tesfaye; February 16, 1990) is a Canadian singer-songwriter & record producer.
Trivia
Selena & The Weeknd met at the 2016 Victoria's Fashion Show.
Dating Timeline
Jan. 11, 2017: TMZ releases paparazzi photos that show Selena and The Weeknd (whose real name is Abel Tesfaye) making out outside of Giorgio Baldi in Santa Monica. This is about two months after Bella and The Weeknd reportedly split, and a little over a month after they shared a deliciously awkward moment on the runway of the Victoria's Secret Fashion Show in Paris.
Jan. 15, 2017: Selena is spotted listening to The Weeknd's latest album, Starboy while on her way to church in West Hollywood. Later that night, TMZ catches up with her outside Italian restaurant Terroni in L.A. They try asking her about Bella and The Weeknd, but you can guess how that went.
Jan. 17, 2017: A "source close to the supermodel" tells 
People
 that Bella and The Weeknd's split "wasn't dramatic, but of course she's hurt and pissed that he's moved on so quickly with Selena."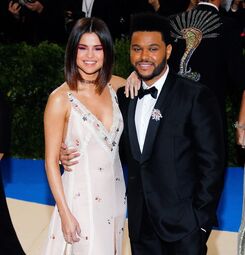 Jan. 25, 2017: Selena and Abel sort of make things Instagram official by following each other online.
Jan. 30, 2017: Selena and Abel travel to Italy together, first visiting Florence, where they rented out an entire restaurant for a private dinner, then Venice, where they enjoyed a boat ride.
Feb. 14, 2017: TMZ releases photos of Selena and Abel making out and relaxing on a luxury yacht in Marina Del Rey, California. According to the site, the Leight Star costs around $85,000 to rent for one week, NBD.
Feb. 21, 2017: Selena appears on her mom Mandy's Instagram account for family game night. Fans are quick to point out that Selena is wearing what appears to be a shirt from The Weeknd's merchandise line
Feb. 26, 2017: Selena joins Abel on the European leg of his "Starboy" world tour.
March 18, 2017: Selena and Abel jet to his hometown of Toronto for a romantic weekend, which included everything from holding hands and shopping to The Weeknd renting a VIP section of a movie theater so the two could watch Get Out.
April 15, 2017: Selena and The Weeknd are spotted kissing at Coachella.
May 1, 2017: Selena and The Weeknd finally make their red carpet debut as a couple at the 2017 Met Gala in New York City.
Oct. 30, 2017: Selena & The Weeknd break up.
Community content is available under
CC-BY-SA
unless otherwise noted.