| | | |
| --- | --- | --- |
| " | I've done my best to warn the parents and my younger fans. I'll be 21 this year so for me it's been kind of refreshing and nice to step out of my comfort zone and do things that I didn't think I could do as an actress. It's been really fun for me. I do my clothing line and everything else for my fans. But 18 and older fans, go see Spring Breakers! | " |
Spring Breakers

Directed by
Harmony Korine
Main cast
Selena Gomez
Vanessa Hudgens
Ashley Benson
Rachel Korine
Country of origin
United States
Release date
March 22, 2013
Running time
93 minutes
Spring Breakers is a 2013 American comedy and drama film written and directed by Harmony Korine. The film stars Selena Gomez, Vanessa Hudgens, Ashley Benson, Rachel Korine and James Franco. The film follows four college-aged girls on their spring break.
The film was selected to compete for the Golden Lion at the 69th Venice International Film Festival. It received mixed to positive reviews from movie critics and was a box office success grossing $25.5 million at the worldwide box office against a $5 million dollar production budget.
Plot
College students Brit (Ashley Benson), Candy (Vanessa Hudgens) and Cotty (Rachel Korine) spend their time partying while their friend Faith (Selena Gomez) attends a religious youth group. As their classmates head to spring break, they are stuck behind due to a lack of money. Desperate to make the trip, Brit and Candy, after getting high on cocaine, don ski masks and use hammers and realistic-looking squirt guns to rob a local restaurant. Cotty drives and later burns a getaway car stolen from one of their professors.
In St. Petersburg, Florida, the girls attend wild beach parties fueled by alcohol, drugs and sex. Cotty, Candy and Brit divulge the details of their crime to a horrified Faith, who keeps quiet about it. After a particularly wild party, all four are arrested. They spend the night in a holding cell, but are bailed out by Alien (James Franco), a local rapper and gangster. Alien charms Cotty, Candy and Brit with his wealth and "bad boy" swagger, but Faith feels uneasy.
Alien takes the girls to a local club frequented by gang members, where Faith becomes even more uncomfortable with his lifestyle. Despite Alien's attempts to convince her to stay, Faith decides to leave and begs the others to come with her. They refuse, however, and she makes the trip home alone. Alien takes Brit and Candy to a strip club owned by his rival, Big Arch (Gucci Mane), who warns Alien to stop selling drugs in his territory. The girls return to Alien's mansion, where he flaunts his drug money and cache of weapons, describing his life as the "American Dream". Brit and Candy suddenly grab one of his guns and threaten to kill him; turned on, Alien performs fellatio on the gun and declares that he has fallen in love with the girls.
Alien arms the girls with pink ski masks and shotguns, and they perform several armed robberies. While in Alien's car they are approached by Big Arch and another member of his gang, who threaten them and execute a drive-by shooting, wounding Cotty. Alien promises to retaliate, but a traumatized Cotty chooses to return home. Brit and Candy stay behind and begin a sexual relationship with Alien. The three of them decide to take revenge on Big Arch. In a flashforward, the two girls call home, promising to work harder and become better people.
Back in the present, the three travel in a motorboat to Big Arch's mansion. After docking at the pier, Alien is immediately shot and killed by one of Big Arch's guards. Brit and Candy continue on, killing Big Arch's gang before confronting and killing Big Arch himself. During the assault and its aftermath, the camera pans over the dead bodies of Big Arch's gang while Faith speaks in a voice-over, first heard earlier in the film, describing the beach's beauty and musing that they have discovered who they truly are. Brit and Candy drive home in Big Arch's Lamborghini. A final flashback shows the pair kissing Alien's dead body.
Production
According to Harmony Korine, he wrote the film partially to make up for his own spring breaks, as he had been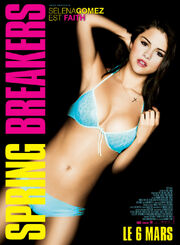 fully devoted to skateboarding, and therefore missed out on what he saw as opportunities for hedonistic pursuits. The original lineup for the lead girls were
Selena Gomez
,
Vanessa Hudgens
, Rachel Korine, and Emma Roberts. Rachel Korine was the first to be confirmed in the project. Roberts dropped out in early 2012 due to "creative differences that couldn't be resolved." Director Korine had purposely collected a group of well-known young actresses with a similar reputation to Roberts in Hollywood.
James Franco's character in the film is based on underground rap artist Dangeruss. There was much speculation that his character was based around another rap artist by the name of Riff Raff. Speaking to the GQ magazine in May 2012, Franco said: "Of course Harmony and I looked at some of Riff Raff's videos as inspiration, but he was one of a number of people we looked at. I would say the biggest influence on the role was this local Florida rapper named Dangeruss. He's fairly unknown, but he was down there in the place, living the life, and he became the biggest model for me and he's in the movie." The film was shot in March and April 2012 in and around St. Petersburg, Florida. Skrillex has been confirmed to be producing the score for the film.
External links
Community content is available under
CC-BY-SA
unless otherwise noted.