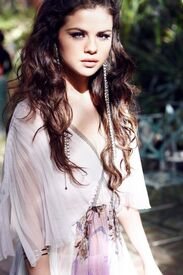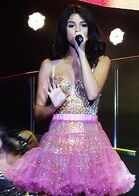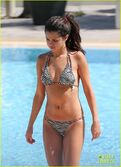 --------------------------------------------------------------------------------------------------------------------------------------------------
This page lists all the facts about Selena Gomez
Facts
She was born on July 22, 1992 in Grand Prairie, Texas and her zodiac sign is cancer.
Her fan mail address is: Selena Gomez, Creative Artists Agency, 2000 Avenue of the Stars, Los Angeles, CA 90067, USA.
She's the most followed person on Instagram.
Selena is the owner of six rescue dogs and describes herself as a "huge animal-lover".
Her net worth is an estimated $60 million.
She is an executive producer, along with her mother, for the Netflix series 13 Reasons Why.
She lived in her first home until she was 13.
Acting
Her start as an actress was when she was cast on Barney & Friends at the age of seven.

Her best friend was Demi Lovato who also starred on Barney & Friends.

Selena was discovered by Disney in a nationwide casting call.
Selena appeared in a few episodes of Hannah Montana as Hannah's rival, Mikayla.
She starred as Grace Bennett in Monte Carlo which was released in October 2011.
Selena had her first kiss when she was 12 years old with Dylan Sprouse. Selena said, "I actually leaned in to kiss him, and I had my eyes closed a little too early and I ended up missing like half of his lip. So it ended up being the most awkward kiss in the world. But I was 12 so it was okay and it was good."[1]
Selena starred in Ramona and Beezus which was released on 23rd July 2010, a day after Selena's 18th birthday
Selena has went to acting school with Logan Henderson of Big Time Rush & Demi Lovato.
She turned down a role in High School Musical.
She is on Team Jacob on the hit movie Twilight, but says she would be a vampire instead of a werewolf, if she had to choose. [2]
She has admitted that she likes acting more than singing
She says that she would like to portray the character Rachel on Friends. [4]
Selena and her castmates from Monte Carlo used to rap while they were on set.
Selena is good friend with her Monte Carlo castmate Katie Cassidy. She said that she was very protective of Katie and treated her like she was a member of her family.
Selena was friends with Cory Monteith, another Monte Carlo castmate, as well. Cory says that Selena was "very sweet" and "down-to-earth".
In an interview with Access Hollywood, Brad Pitt revealed that he might be working with Selena Gomez soon. He also stated in the same interview that his children would not watch any movie without Selena in it.
She was considered to play Snow White in Snow White and the Huntsman, but the role was given to Kristen Stewart.
She was offered the part of Mitchie Torres in the movie Camp Rock. She declined, so the role was given to Demi Lovato instead.
In an interview with J-14, David Henrie, Selena's former co-star on Wizards of Waverly Place, said that he and Selena want to film a movie together. He stated, "Selena and I have always talked about wanting to do a movie together. Just one day that would be fun, when the timing's right."
Nicole Kidman auditioned for Grace Bennett for Monte Carlo but Selena got the part. Nicole is one of the directors.
Selena framed the wand she used in Wizards of Waverly Place
Music
Selena's band members are Greg Garman, Joey Clement, Ethan Roberts, and Dane Forrest.
Selena Gomez protects her voice by drinking olive oil!
In June 2011, she released her album When the Sun Goes Down.
Britney Spears, Selena's childhood idol said that she would like to record a song with Selena. [5]
Justin Bieber, Selena's ex- boyfriend, has said in an inteview with Famous that he would love to sing a duet with Selena. He says that it "would be fine."
She and Miley Cyrus had the same agent in the past.
In one performance, she paused when singing "Who Says" to tell a security guard to leave her fans alone.
She is friends with singer Shakira, who guest-starred in an episode of Wizards of Waverly Place. Selena said, "[Shakira] was so sweet and beautiful. It was great to work with someone so successful but so humble."
In her YouTube video titled "Selena Gomez - Stars Dance Track by Track", she says the 1st song she recorded for her album Stars Dance was "Save the Day" and her favorite line from her song "Love Will Remember" is "somewhere in forever we'll dance again".
Selena said that her favorite line in her song Outlaw from When the Sun Goes Down is "I'm from the Lone Star State, I'm ready to bring you in" because she is from Texas (nicknamed the Lone Star State!)
An unknown source has said that Selena's fifth album will not be released with new songs and that she is releasing a greatest hits album. It is unknown if this news is true.
Same Old Love is not about her ex-boyfriend Justin Bieber, she said that "I think 'Same Old Love' represents a different kind of identity with love"
Revival is not about her ex-boyfriend, Justin Bieber, in a bit, she stated clearly when she said that "No. This is my time. I've deserved this. I earned it. This is all me." in her Billboard cover interview.
Family
Her mother gave birth to her at the age of 16. She at times worked 3-4 jobs.
Her parents divorced when she was 5 years old.
Selena's Italian-American on Mandy's side & Mexican-American on Rick's side.
Her mom, Mandy remarried in 2006 to Brian Teefey.
Her dad, Rick remarried to Sara Gomez.
She went to Danny Jones Middle School located in Texas.
She was named after the famous Mexican-American singer, Selena.
Selena graduated from high school and got her diploma on May 10, 2010. She filmed her graduation ceremony while working on her movie, Monte Carlo.[6]
While discussing plans for her 18th birthday, Selena said that she would go out to dinner with her family.
In an interview, she said that she will be moving out of her parents house soon.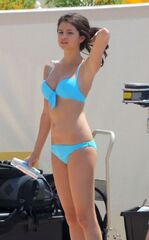 Animals
She has six dogs.
She adopted her dog named Chip from an animal shelter.
For her 2011 music video "Love You Like a Love Song", Gomez had horses spray-painted pink. This led to accusations from PETA and singer Pink about the treatment of the animals. Gomez' spokesperson explained that the coloration has been done with "a non toxic, vegetable based powder paint" under the supervision of the Humane Society.[7]
Opinion about and relationship to other artists and media
She is a huge fan of Johnny Depp.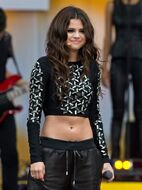 Selena Gomez is a huge fan of Cheryl Cole and wishes to record a duet with her.
She is a hugh fan of Jennifer Aniston.
Selena's favorite movie genre is horror.
Selena and Justin first met in 2009, when Justin's manager called Selena's mother, who's also her manager, to set up a meeting between the two.
Her previous relationship was with Nick Jonas of The Jonas Brothers.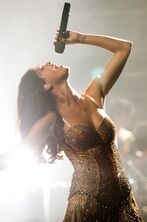 Selena's favorite Justin Bieber songs are One Time, Love Me, and Never Say Never.
Her favorite band is Paramore.
Selena likes hip-hop and punk music.
She has a major crush on Shia LaBeouf.
Some of her favorite musical artists include Fall Out Boy, Christina Aguilera and her friend Vanessa Hudgens.
She is good friends with her Ramona and Beezus co-star Joey King. Joey says, "Selena and I were like real sisters on set. She's one of the sweetest people I ever met. She has a great personality."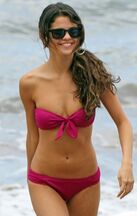 She has met the One Direction members. Selena says that they are "really good guys" and are "really sweet".
She says if she could kiss any of the One Direction members it would be Zayn Malik. [8]
She likes the movie The Hunger Games. She has seen it twice. [9]
Selena's role model is Rachel McAdams.
One of her favorite Taylor Swift songs is "Fearless."
She loves the song "Price Tag" by Jessie J. Selena says that she loves the message of it and it makes her feel good. [10]

Her favorite rappers are Eminem, Drake and B.o.B.
She was obsessed with Britney Spears when she was younger.
When she was younger, her favorite Disney princess was Cinderella.
Selena flirted with Derek Hough on March 1, 2013, leaving fans wondering if Selena & Derek are dating. [11]
Her most embarrassing moment was when she sent an embarrassing message to her crush.
Selena loves rap music.[12]

Ashley Tisdale is one of Selena's friends. Selena tweeted about her once.[13]
She has met Disney starlet Coco Jones and YouTube sensation Austin Mahone during the Radio Disney Music Awards.[14][15]
Demi Lovato said to Celibritext that Selena was very supportive of Demi's work in Camp Rock.
She shares her birthday with royal baby Prince George (son of Prince William). In an interview with E! News, Selena said that she is honored that she has the same birthday with him.[16]
She said that she has "Bieber fever."
Before she was given the part as Alex Russo in Wizards of Waverly Place, she wasn't a fan of magic or the Harry Potter franchise.
Her favorite season of Wizards of Waverly Place is season 3.
Selena used to like the Power Rangers show and wanted to be the red power ranger.
David Beckham made his son's dream come true by introducing him to Selena.
In an interview, all the members of One Direction (excluding Liam) said that they liked Selena over Miley Cyrus.

Kim Possible was her favorite cartoon when she was younger.
Her first memory is attending a Britney Spears concert.
If she could meet anyone who has passed away, it would be Marilyn Monroe.
Selena is good friends with the boy band Emblem3. Wesley Stromberg, a member of the group, says, "[Selena and I] are totally good friends. We hang out and text, and we went to Disneyland. It's literally about to be the best time of our lives."
She is friends with David Archuleta.
According to a source, she started dating Romeo Miller on December 25, 2013. This is yet to be confirmed by Selena.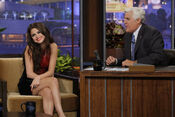 On February 17, 2014, she met Niall Horan of the band One Direction in London, England.[17]
In an interview with J-14, Selena's friend Kendall Schmidt said that he would like to take her out on a date.[18]
Lucy Hale of Pretty Little Liars has a resemblance to Selena and is often mistaken to be Selena. Once, a woman at an airport asked Lucy for a picture of her, thinking she was Selena. Lucy stated she probably "crushed" the woman and her daughter's heart after she revealed she was not Selena.[19]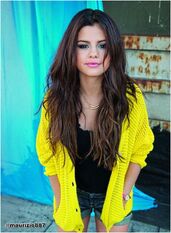 Fashion
Selena received a Mickey Mouse charm necklace as a gift from Disney Channel.
Selena's clothing line "Dream Out Loud" launched on 15th July 2010.
She used to wear a purity ring that said "true love waits," but it has since disappeared from her finger once she started dating Justin Bieber.
She and her ex best friend Demi Lovato have matching guitar pick necklaces.
Her shoe size is 7.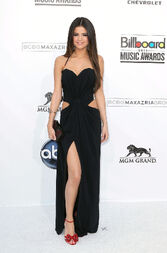 Her favorite colors are cyan, blue and yellow. [20]
She owns over 20 pairs of Converse shoes, all in different colors.
She likes MAC's products, especially their eye shadow Naked Lunch.
Carmex is one of her favorite lip balms. She says that she always has that with her.
Her hair must-have is Ted Gibson's Beautiful Hold hair spray.
Her favorite accessories are scarves.
She loves to shop at Urban Outfitter.
She has an MCM handbag worth over $1,000 which was supposedly a gift from Justin Bieber.
She wears designer Sherri Hill clothing.
The sunglasses she wore in her "Hit the Lights" music video are the same glasses she wore in Wizards of Waverly Place: The Movie.
She uses Olax SPF lotion.
She attended the Vercase Show Milan Fashion Week on September 20, 2013.
She works with the Stylist Basha Richard since she did her first music video at the age of 15. Selena changes style when she acts or she is making music. She first wanted to have a different persona for music when visiting the American Music Awards 2011 for the first time where she wore a bright silver dress. In contrast, e.g. she wore a simple but elegant and classic Christian Coda dress for the Kids Choice Awards 2011.[21]
Online
Selena's Twitter account is @selenagomez.
Selena's Facebook account is https://www.facebook.com/Selena
Selena Gomez has nearly two million subscribers on YouTube. (1993804 on 2015-07-24)
Selena and Demi Lovato starred in their own unofficial YouTube show called "The Demi and Selena Show".
Selena also maintains official private accounts on twitter (@selenagomezISR, formerly @selenagomezHR, short for Interscope Records resp. Hollywood Records) and tumblr (atrailofuntoldstories) (Permission to publicise those accounts: [22])
Selena scheduled a live chat on Monday, June 3, 2013.[23]
Selena loves the social networking site called Instagram (selenagomez). She says: "Instagram is fun because you don't have to say much. It is simply expressing to others what you see. So, if I see a sculpture or a cloud in the sky I can create any effect and share it with my fans. It is a little more personal than just saying 'I am walking down the street' on Twitter."
Her Instagram account (selenagomez) has now more than 141 millions followers and is the most followed person on Instagram besides the official account of Instagram itself.
She appeared in one of Christina Grimmie's vlogs (short for video blog).
She has a Snapchat account (@selenagomez) but she doesn't use Snapchat often because her friends don't like it.
Cuisine
Selena has said to Go Girl magazine that she would like invent "pickle flavored gum".
Selena's favorite fruits are cherries, watermelon, blackberries, bananas, apples, peaches, strawberries, blueberries, dried baby bananas, and mangos.
Selena's favorite veggies are tomatoes, onions, celeries, baby corns, and broccolis.
Selena puts salt on her lemons.
She loves pickles, so much so that she'll eat it with popcorn and Reese's Peanut Butter Cups.
She says if she weren't an actress she would love to be a chef.
She loves the chocolates Kit Kat, M&M's and Snickers.
She said that she would like to have the power to make food appear on the table whenever she is hungry.
She loves Southern food.[24]
She loves the restaurant Hooters.
She said that she still eat Oreos with forks.
Sports
Selena loves to surf and skateboard.
Her favorite sport is basketball.[25]
She enjoys cheerleading, surfing and skateboarding.
Culture
Halloween is one of Selena's favorite holidays.
She gave flowers to her fans on Valentine's Day.
Awards
During the National Council of La Raza's ALMA Awards, Selena Gomez won the award for comedy for her performance in Wizards of Waverly Place.
So far, she won ten Kids' Choice Awards.
She won her first AMA as the Favorite Pop/Rock Female Artist in 2016.
Overall, Selena has won 75 awards and has received 103 nominations.
Social responsibility
She took part in Disney Channel's Earth Day celebration.
Selena is the youngest ambassador for UNICEF. She was first appointed when she was 17.
She traveled to the Democratic Republic of the Congo as part of a UNICEF mission.
On October 27, 2013, she visited Levine Children's Hospital in Charlotte, NC during her Stars Dance Tour and met her fans there.[26]
Technology
Selena has a driving license.
She used to drive a 2009 Ford Escape Hybrid.
She drives a Prius Prime in blue.
Her favorite school subject is Science.
She owns an iPhone X. [27]
She owns two iPhone 8 which are silver, used for work, and rose gold, used as personal use.
Selena owns a Windows 10.[28]
Selena owns a PlayStation 4, Nintendo Switch, Wii U and Xbox One.
Selena owns Blu-ray Discs and Ultra HD Blu-ray Player.
She bought her first car on June 19th, 2013.[29]
Lifestyle
She says that she would love to live in New York. [30]
Selena describes herself as a couch potato.
She describes her style as "pretty, feminine and bohemian".
In an interview with Famous, Selena said that she is a perfectionist and self-critical.
In an interview, Selena talked about her life in school. "I was never the popular kid at school. I had two friends, but I just sat at the back of the room and got on with my work," she says.
She had a gypsy-themed birthday party in celebration of her 21st birthday. Celebrities in attendance were Justin Bieber, Derek Hough, Ashley Greene and Ashley Benson.
She's afraid of the ocean, as she said to Twist magazine.
If she could have one wish to be instantly granted, it would be for everyone to be nice.
Three things she looks for in a guy are respectfulness, class, and humor.[31]
She thinks a guy having a big ego is a turn-off for her.
She loves horror movies.
She loves getting scared
She says that she would love to live in Pennsylvania.
References
Community content is available under
CC-BY-SA
unless otherwise noted.