Birthday

Featured Artist(s)
Selena Gomez
Album
Stars Dance
Released
July 22, 2013
Recorded
2012
Genre
Electro punk, club, EDM
Format
Digital download
Length
3:20
Writer(s)
Crista Russo, Mike Del Rio and Jacob Kasher Hindlin
Producer(s)
Mike Del Rio
"Birthday" is a song recorded by American recording artist Selena Gomez for her solo debut album Stars Dance (2013). It was written by Gomez, Crista Russo, and Jacob Kasher Hindlin, along with the songs producer Mike Del Rio. Musically, the song is composed in the genres of electro punk, club, and EDM, while containing strong influences of both trap music and hip hop. The songs musical composition combines sparse drum beats, "oxygen sucking" sub-bass, handclaps, sexual moans and hard dance beats to create a unique sound. "Birthday" was the first song recorded for Stars Dance.[1] A teaser of the song was released on July 16, 2013 on Gomez's YouTube account.
Thematically, "Birthday" is a party song which discusses topics such as sexual appeal, self-entitlement, and girl power, while its risqué lyrics speak of a night of hard partying. The song has received comparisons to several artists, including Dev, M.I.A., and Icona Pop. Upon release, "Birthday" received favourable reviews from music critics, who praised the song for it's unique sound and production. An accompanying music video for the song was released on July 22, 2013, to coincide with Gomez's 21st birthday, and features Gomez and her friends partying and singing the song in different locations, including an underground nightclub and a dark room.
Background
In 2009, Selena Gomez & the Scene released their debut album, Kiss & Tell, and quickly followed-up with 2010's A Year Without Rain. After the release of the latter, Gomez said that she was not in a rush to release another album, but after hearing "Who Says", she decided to begin another release, calling the song "amazing" and crediting it for inspiring her. "Who Says" debuted on radio show On Air with Ryan Seacrest as the first single of the album. On June 17, "Love You Like a Love Song", the album's official second single was released. When the Sun Goes Down was released on June 28, 2011. In the week of July 4, 2011, it debuted at #4 on the Billboard 200 with the band's highest sales week to date, selling 78,000 copies in its first week. The next week the album rose to number three, making it the band's highest charting album. The album has sold 671,000 copies in the United States as of June 2013 according to Nielsen SoundScan. In January 2012, Gomez announced that she would put her music career on hold in order to focus on her acting career, and that the band would be taking a hiatus: "my band and I are going our separate ways for a while. This year is all about films and acting and I want my band to play music wherever with whoever. We will be back but, it will be a good while." Despite her earlier statements, Gomez confirmed in October 2012 that work had begun on an upcoming album. The album's lead single, "Come & Get It", was released on April 8, 2013. Gomez later confirmed that the album would be her solo debut album, rather than her band's fourth album.
Composition
Musically, "Birthday" is an electro punk, club and EDM song, which draws influence from trap and hip hop music. The beat is composed of deep electronic dance beats, and is built around the sound of police sirens and sexual moans, while containing purring, synthesized bass, snappy beats, handclaps, "oxygen-sucking" sub-bass and trap snares. Sparse drum beats and vocal chants are woven throughout the songs composition, which according to Christina Drill of Popdust, is reminiscent of Gwen Stefani's debut solo album, Love. Angel. Music. Baby. (2004).
Thematically, "Birthday" has been described as a "party anthem", with the song exploring topics such as self-entitlement, partying, girl power, and sex appeal. Lyrically, the song has been described as risqué, with lyrics such as "blow your dreams/ blow your dreams/ blow your dreams away with me". According to Gomez, she made the song with the intent of it having a "Hollaback Girl" vibe. "Birthday" has received comparisons to several artists for its unique genre, most notably Dev, M.I.A., and Icona Pop. Julia Rubin of Headlines and Global News described the song as a "candy-coated, clap-happy club anthem with plenty of girl power and sex appeal, much like a bubblegum version of Rihanna's "Cockiness (Love It)", while Jim Farber of New York Daily News said that "Birthday" "has the bratty sense of entitlement, flagrant delivery and braying hook of Icona Pop's smash "I Love It."
Critical reception
Upon release, "Birthday" received favorable reviews from music critics. Natalie Palmer of Entertainment Wise said Gomez should be praised for trying something new, saying that the song "isn't what you would expect from Selena but the genre suits her well." In a positive review, August Brown of The Los Angeles Times jokingly said the song was "almost as good as having shorts in every color." Amy Sciarretto of Popcrush compared the song to the work of American recording artist Ke$ha, saying that all though the song was not as "Dirty" as Kesha's, Gomez still had "softcore, orgasmic moans sprinkled throughout". Kia Makarechi of The Huffington Post was critical of "Birthday", criticizing the songs lyrics, as well as calling the songs panting and moaning "overwrought" and "excessive". Christina Drill of Popdust gave the song a highly positive 4.5 out of 5 review, declaring it "super fun" and catchy, while later going on to say "Birthday" is "the weirdest and greatest thing Selena's ever done".
Music video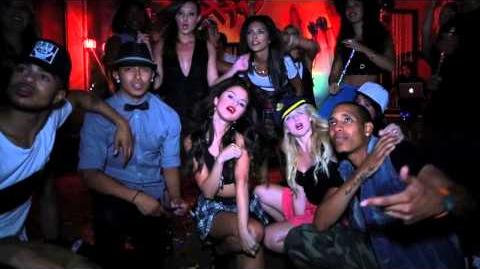 On July 22, 2013, at exactly midnight, Gomez unexpectedly uploaded a music video for "Birthday" onto her official YouTube channel to coincide with her 21st birthday. Gomez left a short message, saying "I wanted to celebrate my 21st Birthday with all of you, so we made this video for us all to celebrate together. Thank you for all the love and support you have shown and continue to show me. I love you all so much!!" In the video, a "smiley" Gomez is seen in a black crop top and shorts with a flannel shirt around her waist, and is shown singing the song with her friends in a dark room. The video is also intersped with clips of a party in an underground night club, as glitter falls from the ceiling. The video ends with Gomez's friends singing "Happy Birthday" to her. Within the first 24 hours of being released, the video had garnered over a million views.
Live performances
On July 27, 2013, Gomez performed "Birthday" on Good Morning America along with "Come & Get It".
Beginning August 14, 2013, Gomez performed the song on her Stars Dance Tour, with elements of the song "Work".
On September 4, 2013, Gomez performed the song on Live! With Kelly and Michael.
On December 10, 2013, Gomez performed the song on the 2013 KIIS Jingle Ball.
Lyrics
Tell 'em that it's my birthday [x3]
When I party like that
Every night's my birthday
They don't know, so it's okay
Tell 'em that it's my birthday
When I party like that

(Jazz it up) [x2]

Happy as can be
Falling into you, falling into me (so yummy)
How do you do, come and meet the queen, cake and cream
Blow your dreams, blow your dreams, blow your dreams away with me
Blow your dreams, blow your dreams, blow your dreams away with me
So yummy

Tell 'em that it's my birthday [x3]
When I party like that
Every night's my birthday
They don't know, so it's okay
Tell 'em that it's my birthday
When I party like that

(Jazz it up) [x2]

Feeling fine and free
Crashing into you, crashing into me (so yummy)
It's all I wanna do, come and dance with me, pretty please
Blow your dreams, blow your dreams, blow your dreams away with me
Blow your dreams, blow your dreams, blow your dreams away with me

Tell 'em that it's my birthday [x3]
When I party like that
Every night's my birthday
They don't know, so it's okay
Tell 'em that it's my birthday
When I party like that

Tell 'em that it's my birthday [x3]
When I party like that
Every night's my birthday
They don't know, so it's okay
Tell 'em that it's my birthday
When I party like that

Blow your dreams, blow your dreams, blow your dreams away with me [x4]

(Party on, baby)

Tell 'em that it's my birthday [x3]
When I party like that
Every night's my birthday
They don't know, so it's okay
Tell 'em that it's my birthday
When I party like that

Tell 'em that it's my birthday [x3]
When I party like that
Every night's my birthday
They don't know, so it's okay
Tell 'em that it's my birthday
When I party like that
References